No School
Christmas Break Dec. 22nd- Jan. 2nd
No School Jan. 5th - Staff Development Day
Students return to school on Jan. 6th
Okay academic team scores well in district tournament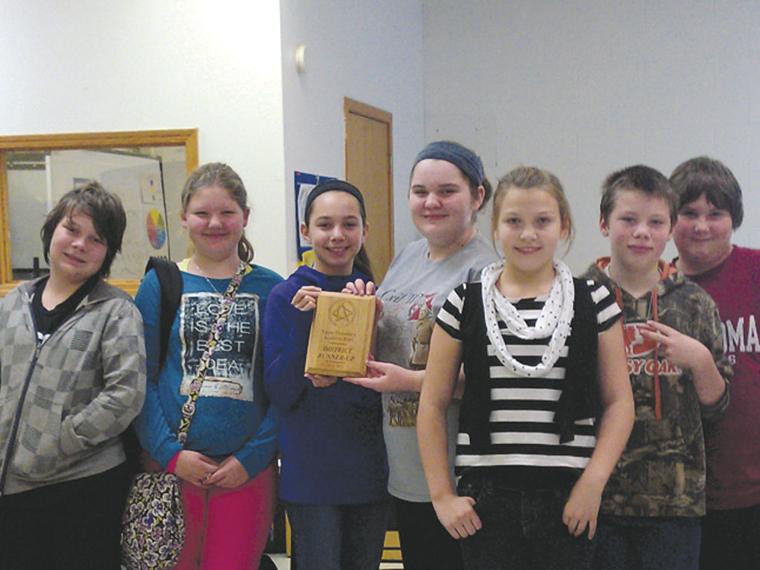 Okay Public Schools, Superintendent Charles McMahan and Principal Mike Lasater would like to congratulate their Upper Elementary Academic Bowl Team for placing 1st Runner Up in the Oklahoma Association for Academic Competition's district tournament on Dec. 3 at St. Joseph School in Muskogee. Carson Randell, Sydney Sells, co-captain Bailey Williams, captain Ashlyn Goad, Lainee Strader, Damian Mayton, and Kaden Haley.
Special thanks to their coaches
BJ Charbonneau, Janet Leak and Lavanna Casey
Upcoming events
Elementary Christmas play December 19th in Elementary gym at 9am
Upcoming Basketball Games
Dec 16 HS vs Gans at Okay 6:30pm
Dec 18 JH & HS vs Braggs at Okay 4pm
2014-2015
Basketball Admission price
HS Games
Adults - $5
Students - $3
JH Games
Adults - $4
Students $3
HS & JH Games (same night)
Adults - $5
Students - $4
Okay Public Schools will be offering Basketball Season passes for the 14-15 school year.
Passes will be good for both junior high and high school basketball games
Prices are as follows:
Individual pass - $30
Family pass (4 members) - $75 additional family passes may be purchased for an additional $10
See Coach McMahan for details
Parents: Check this out!
The Oklahoma 529 College Savings Plan Sweepstakes
Last December Krebs Elementary School in Krebs, Oklahoma was awarded $10,529; the largest donation in school history. Your school could be the next recipient of $10,529, compliments of the 10,000 Reasons to Save Sweepstakes and theOklahoma 529 College Savings Plan. The sweepstakes started on August 19 and ends on November 19.
Details about the 10,000 Reasons to Save Sweepstakes
WHAT IS IT? Sponsored by the Oklahoma 529 College Savings Plan (OCSP), the 10,000 Reasons to Save Sweepstakes was launched to raise awareness of the importance of saving for college.
HOW DOES IT WORK? Visit ok4saving.org and submit the 10,000 Reasons to Save Sweepstakes online entry form. One winner will be randomly selected.
WHEN IS IT? The 10,000 Reasons to Save Sweepstakes starts August 19, 2014 and the entries close at 11:59 p.m. on November 19, 2014.
WHY ENTER? One lucky winner will win $10,529 towards an OCSP account and their school also wins $10,529 in cash!
to enter visit: www.ok4saving.org/news/10000-reasons.shtml
We are currently taking applications for
substitute bus drivers.
Please contact the Superintendents office for more information.
Okay Public School
School Bond Issue
New Buses should be here by 2nd week of December!
We will post updates on the bond process as we move forward.
IT'S A GREAT DAY TO BE A MUSTANG!